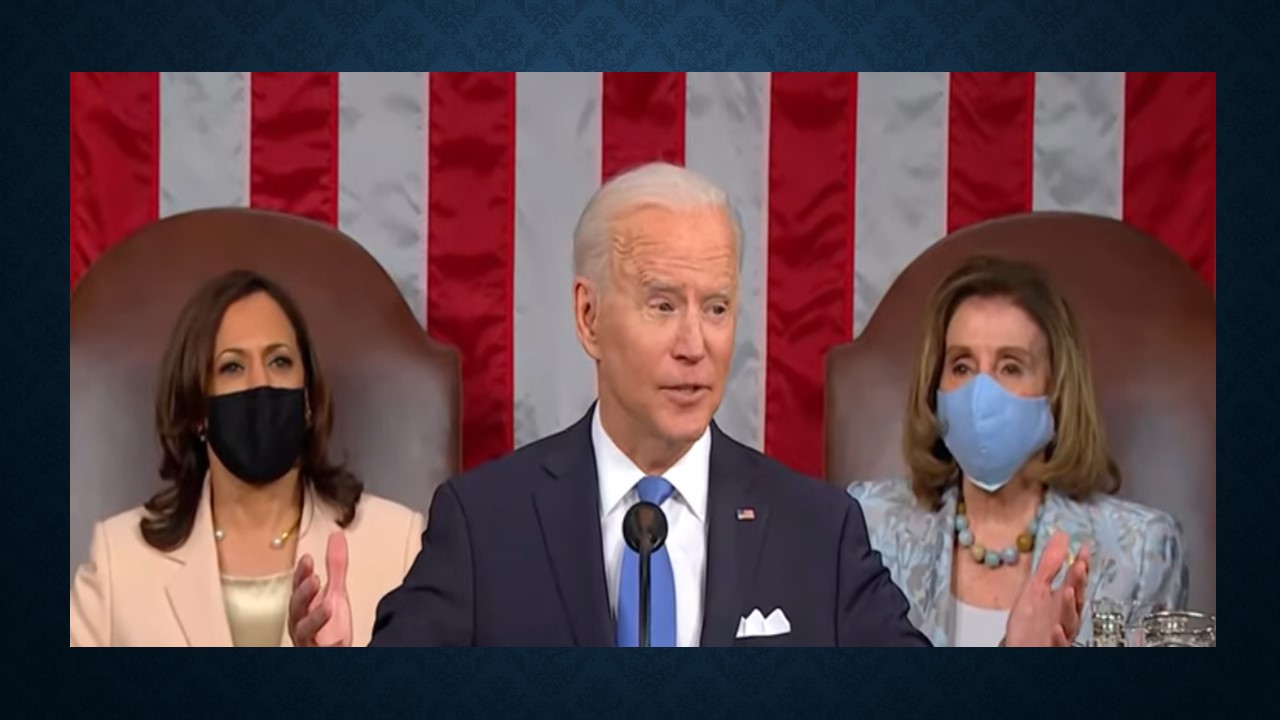 April 30, 2021
President Biden
05/01/21 Update: President Biden issued A Proclamation on National Mental Health Awareness Month, 2021. The upside is that he references "peers" which, I believe, is unprecedented in a Presidential proclamation regarding May being Mental Health Awareness Month. The downside is he didn't reference mental health in his congressional address. At a moment when he had national televised attention, he remained silent.
His proclamation begins with "..discrimination against those with mental health conditions in our society remains, and can make it difficult to find and reach out for help." If he were listening right now – if there were some way for the President of the United States to hear my voice – I would say that discrimination is preceded by bias and bias is preceded by silence and we need him to not be silent.
His proclamation ends with "My Administration is committed to ensuring that everyone knows that they are not alone, that help exists, and that we will provide the mental health support needed to heal, recover, and thrive." I appreciate those words. I do. I truly do. I wish I knew a better, more diplomatic way to say that the mental health community is tasked with sharing this proclamation. We need to hear the President say the words "mental health."
If my concerns somehow reach the President and he responds to my Open Letter, I will keep you updated.
---
Dear Mr. President,
I hope you are well.
After having viewed your address to Congress, I am prompted to write you this letter. I have written similar letters to former Presidents and – other than a Christmas/holiday card – have never received a response. It makes me wonder if reaching out to the highest office in our nation is even worth the time it takes to write.
Yet, still I write.
You and your administration delivered on your promise of administering 100 million vaccinations in your first 100 days….and then some. Congratulations. Just today I saw a report that the CDC has issued new recommendations for people who are fully vaccinated, including less mask usage. Congratulations and thank you.
You spoke about how vital issues related to the pandemic were addressed – including vaccinations, relief checks, rental assistance, loans for small businesses to keep employees on the job and you cited an example of cars lined up for miles to put food boxes in people's trunk.
You spoke of 800,000 Americans who enrolled in the Affordable Care Act during a special sign up period and making one the largest investments ever for improving healthcare for Veterans. When you mentioned addressing the opioid crisis, I was waiting for you to reference mental health needs and suicide prevention.
Still I wait.
I listened to your speech in its' entirety. There was no mention of how telehealth has become a viable option for people dealing with stress, anxiety, depression and trauma which have occurred during the past year. There was no mention of additional funds for crisis lines and no number was cited reflecting increased call volume.
There was no mention of mental health at all.
March 11, 2021, the House Appropriations Subcommittee held a hearing about the Impact of COVID-19 on Mental Health & Substance Abuse Crisis. Testimony was given about how our mental health is impacted by the pandemic and potentially may be impacted for decades. Children born in this era will grow up in the aftermath of trauma.
Despite that the Chair failed to identify even one mental health consumer or mental health consumer advocacy organization to provide testimony, I felt this hearing was important. Though industry leaders seemed comfortable testifying about us/without us, I had hoped you might include some of their remarks in yours.
Mr. President, as an American who experienced poverty as a child and adult, I'm saying you cannot successfully cut child poverty in half without addressing mental health and trauma recovery needs of both children and adults. Good mental health impacts one's ability to navigate poverty and overcome many life challenges.
Earlier this week, I had opportunity to deliver a virtual presentation about money to junior high students through the Chicago Public School's Office of Diverse Learner Supports & Services. I wish you could have seen these kids. I bet your wife would also be interested. They were so engaged and put thoughtful answers in the chat box.
At one point in the presentation, I realized that the topic of financial wellness has little bearing on their lives unless their mental health needs are also being met. I want to impress this same realization upon you. You referenced many important topics in your address which have limited impact without also addressing mental health.
Do you have anyone in your administration who openly identifies as a person in mental health recovery? Which stakeholder groups comprised of persons with psychiatric disabilities does your administration consult with? In seeking a SAMHSA Administrator, have you sought out qualified candidates with disclosed recovery experience?
The concerns I'm bringing to you are just as much about dignity and equity as they are about mental health so I'm issuing A Call For Dignity. I'm asking you to read and respond to this call. Your attention to dignity, equity and our national mental health status is a necessary practice of good stewardship in your role as President.
Please do not let us down.
For what it's worth, Senator Tim Scott also failed to mention mental health during his rebuttal remarks. Both parties have opportunity to address mental health (especially from a customer perspective) from this day forward. You, however, are President which means you have greater responsibility and greater influence.
Please do not let us down.
You asked "Can our democracy deliver on its' promise that all of us – created equal in the image of God – have a chance to lead lives of dignity, respect and possibility?" My question is: How will you and your administration do your part in applying this thought process to the American people with regard to mental health dignity?
Whether it's a young Mom trying to figure out how to fit counseling into her day/budget or a longstanding member of the mental health community who needs supportive services or our neighbor contemplating suicide after so much pandemic loss, how will you do your part to deliver on the aforementioned promise?
Words are powerful, so much so they have the power of life and death. It's urgent we hear you talk about mental health and it's critically important that you hear our words about mental health policy. Those of us whose lives have been interrupted and have experienced mental health anguish/bias have systemic contributions to make.
We're not (at least I'm not) neat little "recovered" packages, but we are American citizens deserving of full-fledged citizenship. Do not overlook the powerful asset of our uniquely acquired insight. Do not fail to mention the importance of mental health in future remarks. Mr. President, please place appropriate value on our lives.
Thank you for taking the time to read this letter and thank you for your public service.
AJ French
This is an open letter to United States President Biden. It was sent directly to the White House on the eve of National Mental Health Awareness Month. If you would like to reach out to the President about Mental Health Dignity, click on this link to contact the White House.